OUR CUSTOMERS
Corporate Associates
Dealcloser was co-founded by a former corporate associate who experienced the inefficiencies of the traditional deal-closing process first-hand. Dealcloser makes your day-to-day less manual, tedious and soul-crushing.
Collaboration made easy.
Tracking down clients to sign their documents and collaborating with other lawyers on a deal can be time-consuming. With Dealcloser, these tasks are automated.
Supporting you through training.
Changing your workflows is not an easy thing to do. That's why we provide client training—as much as you need—until you are comfortable using our platform.
Get your spare time back.
We know that you often stay late at the office. Your time is valuable, so Dealcloser will help automate your processes to give you time back in your day.
Dealcloser allows me to manage, track and close complex corporate deals, all from a single easy to use platform. No more cobbling together separate solutions for data storage, managing agendas, and electronic signatures. Not only has dealcloser made my life easier, it has also made our law firm look good. What more could you want?
The challenge of collecting signatures from multiple parties is eliminated as they are all collected in one place. The clients also like it because they can complete signatures basically anywhere they have web access. It is also perfect for collaborating with other professionals as you can allow them to access the documentation online.
I recently closed a multi-million dollar transaction with dozens of documents, and my paper file is less than half a centimeter thick. We had the most orderly closing imaginable, and were completely ready to close the day before. All that was left for the closing date was the exchange of funds. Closing book was delivered the same day. Clients appreciate it, as well.
KMSC adoptedD across its entire corporate entity.
Read about all the ways that Dealcloser transformed KMSC's workflows in our case study.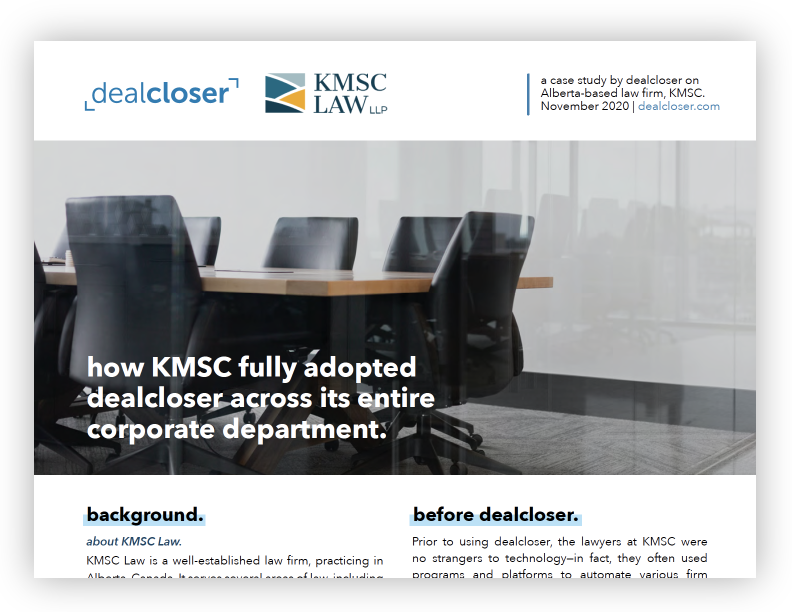 We want to help Paralegals & Associates like you.