One-of-a-kind solution.
We've created our own custom-built, legally compliant signature management solution that's simple and intuitive for you and your clients to use. We offer both electronic signatures and digital signatures. Unlike other transaction management platforms, we don't rely on any complicated third party signature integrations for our signature management solution, making for a seamless user experience that eliminates the risks associated with the use of a third-party application.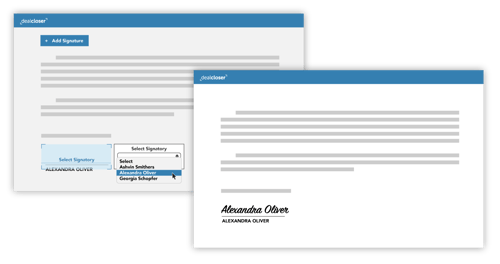 Smart notification system.
Clients may take their time signing documents and reminding them over email to do so is time consuming and inefficient. Occasionally, more reminder emails are necessary when clients need to sign follow up documents. With Dealcloser, notify your clients to log in and take action with the click of a button.
Instant signatures.
Create ready-to-sign documents with an automatically generated breakaway signature page or use Dealcloser's powerful Sign Anywhere feature (the digital equivalent of 'sign here' sticky flags). Once ready, give your clients permission to access their documents. Easily notify your clients to log into Dealcloser to review and sign the documents.
Digital and electronic signatures.
We provide you with the option to use either basic electronic signatures or digital signatures, depending on your needs. When you use digital signatures, we seal the document with a tamper-evident seal and append a Certificate of Record to the document that displays the document's history and metadata. We also make it impossible for the document to be modified after the first signer signs the document.
Learn how our e-signature solutions will help your firm.