Document comparison.
Use our built-in document comparison tool to compare any two versions of a document and see the changes between each version. You can download the resulting comparison document if you'd like to as well.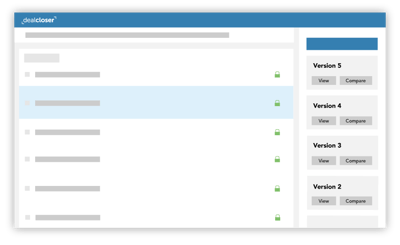 Document automation.
With our document automation system, you can complete all of your deal documents knowing that you've made no mistakes. Each time you use document automation, your documents are generated from template Word documents that you can ensure are perfect.
Request information from your clients.
When using our document automation and document assembly system, you can assign details to your clients (or any collaborator) to provide. Before your clients sign their documents, they must first provide the requested information - which will then automatically get pulled into your documents in all the right places!
Collaboration.
With our document management system, you can easily set permissions on a per document and per party basis using our granular permission system. If a specific document needs to be hidden from certain parties on your deal, you can easily hide that document using Dealcloser's permission settings. We take collaboration even further with our Microsoft Word Online integration—allowing you to work with your collaborators in real-time, all from our app.
Branded closing binders.
With our branded closing binder feature, you'll be able to upload a cover page of your choice that will automatically be placed at the start of the closing binder. We offer template cover pages that come with placeholders that you can replace as needed.
Cloning.
Our cloning features gives you endless options to clone previous deals. You can copy over all of the people invited to the original deal or only the ones needed. The same goes for documents—clone all of the documents from your original deal or only a few. Our cloning feature also allows you to duplicate the headers, sub-headers and rows of your original project.
Project checklists & closing binders.
Build your deal's project checklist on Dealcloser by uploading your documents to the platform and use it to track the deal's status - this is your central deal management tool. You can even watch as clients sign their documents live! When you're done with your deal, save yourself time (and printer paper) by exporting your PDF closing binder with the click of a button.
Learn how our document management solution will help your firm.