Microsoft Word Online.
We've integrated with Microsoft Word Online! This integration allows you to collaborate even more effectively by co-authoring documents in real time with others on the deal. Best of all, you can do this all within the Dealcloser app. Co-author documents, track changes and leave comments with our Microsoft Word Online integration.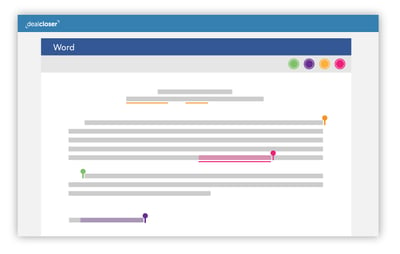 Project checklists.
Upload your documents to Dealcloser to create your project's checklist - this is your central deal management tool. You can then track the deal's status on Dealcloser. Invite all the parties involved with the transaction to the platform so that everyone can work together seamlessly. Never work from the wrong version again!
Request information from your clients.
When using our document automation and document assembly system, you can assign details to your clients (or any collaborator) to provide. Before your clients sign their documents, they must first provide the requested information - which will then automatically get pulled into your documents in all the right places!
Instant signatures.
Create ready-to-sign documents with an automatically generated breakaway signature page or use Dealcloser's powerful Sign Anywhere feature (the digital equivalent of 'sign here' sticky flags). Once you're ready, give your clients permission to access and sign their documents. Easily notify your clients to log into Dealcloser to review and sign the documents. We offer both electronic signatures and digital signatures.
Secure document storage.
Our data centers and network architecture are built to meet the requirements of the most security-sensitive organizations. All data is stored in highly secure data centers located within North America. Our infrastructure aligns with dozens of compliance programs, ensuring that Dealcloser achieves and completes many compliance segments.
See how we make collaborating easy.